Boarding & Daycare
If you are going out of town or have a long days at work, bring your pet to Vet Stop Animal Hospital! We are proud to offer pet boarding and daycare under the supervision of our veterinary team. We cater to all of your pet's needs while they're in our care, including lots of exercise and play time in our indoor and outdoor play yards! When your pet is ready for some downtime, they'll have plenty of space to rest in our large, temperature-controlled runs. By choosing us, you can rest assured that if your pet has a health concern while you are away, they will be in the best hands possible.
For a limited time only we will be offering a FREE first day of daycare & FREE first night of boarding.
Doggy Daycare
Doggie daycare is a great way for your dog to socialize and burn off excess energy. Additionally, if your dog suffers from separation anxiety, doggy daycare can help them build confidence over time. There's no need to leave your pet alone during the day with Vet Stop Daycare.
Our first priority at doggy daycare is safety. All dogs are under constant staff supervision while playing. All dogs attending daycare are carefully screened to ensure they will make good playmates for your dog.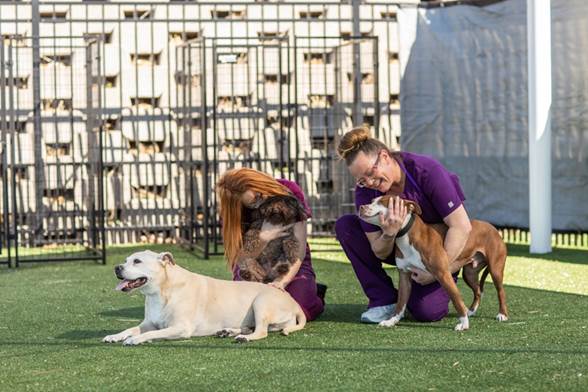 Pet Boarding
Our state of the art lodge features the best pet boarding accommodations around! We offer a variety of packages will allow you to customize your pet's stay with us. All boarding pets will be exercised frequently, fed a healthy diet (or the food can be brought from home) and receive personalized attention throughout their stay.
Boarding pets may be dropped off and picked up anytime from opening to 30 minutes before closing, Monday through Saturday. Pick up on Sunday's available from 4pm-5pm. Please call us with any questions you may have about your doggy daycare or boarding. We are happy to answer any questions you might have and provide a quote for your pet.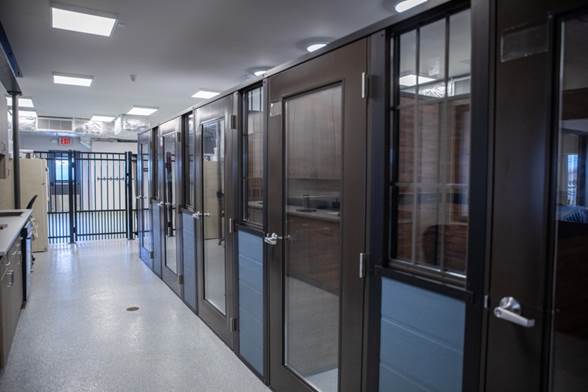 Doggy Daycare Prices

Full Day (>4 hours) $32

Half Day (<4 hours) $20

10-Day Package $300

20-Day Package $560

*[Pending passed temperament test]

*Does not include overnight boarding
Dog Boarding Prices

Run (5'x3′) — $50 per pet per night

Suite (5'x5′) — $57 per pet per night

Daycare w/ Boarding – $13/day

Includes daily weight checks, custom feeding schedule, and three walks.

We do offer a multi-pet discount of 10% off housing for dogs who share a space together. Dogs must behave appropriately together when unsupervised or they will be separated.

Check-out time is anytime before 5pm. Pets picked up after 5pm will be charged for another night, similar to a hotel.
Cat Boarding Prices

Cat Condo — $30 per pet per night

Includes custom feeding schedule and twice daily litterbox changes.

Check-out time is anytime before 5pm. Pets picked up after 5pm will be charged for another night, similar to a hotel.
Boarding Add-Ons
Group Play

If your dog loves to make friends with other dogs, this is the perfect activity for them!

Requirements: A negative fecal exam within the last 6 months. Spayed/neutered. Passes temperament test.

$13 per pet per day
Afternoon Snack

A special treat is the perfect way to let your pup know you're thinking of them! Treats can include:

Peanut Butter Kongs
Spray Cheese Lick-Pad
Frozen Yogurt Treat
Dog-Friendly Ice Cream

$6 per treat
Cuddle Time

Sometimes pups just want to cuddle. Lucky for them, our staff loves to snuggle up with pups!

$13 per 15 minutes
Tranquility Package

As much as we try to make your pet's boarding stay with us a fun one, we know some pet's really just miss home and can get a little stressed out. Our Tranquility Package is a perfect buffer to help your pup along until you're able to pick them up. This includes:

Adaptil Turndown service — a pheromone-based spray that has the same pheromones as a nursing mother dog.
Fortiflora Sprinkle — a probiotic to help with a nervous stomach
Some one-on-one cuddle time.

$16 per day
Individual Play

Individual play is a great way for your pet to get some one-on-one play time with one of our lodge team members. We are happy to play fetch, run around the yard with them, or just let them get the zoomies out in our playyard.

$13 per pet per 15 minutes
Enrichment Toy

Puzzle toys to stimulate your pet's brain!

$6 per toy
Text Updates

Let's be honest, leaving your pet at the kennel can be nerve-wrecking. Sometimes you just need an update on how they're doing – look no further! We are happy to send you a text (with a picture!) documenting your pet's stay with us!

$3 per update
Vaccine Requirements
Canines

Rabies

Distemper Combination

Bordatella

Negative fecal exam within the last 6 months (if participating in group play)

No coughing, vomiting, diarrhea, or other possibly contagious diagnosis within the last two weeks.
Felines

Rabies

Distemper Combination
Boarding Policies
Our Boarding Policies

All pets that come into the clinic with fleas or ticks will be treated. The cost of this treatment is fully at the pet owner's expense ($8+ for 24-hour flea medication, $5 per 5 minutes of parasite removal).
Payment in full must be collected at the time of pick-up. If a pet is being picked up on the on the weekend, payment must be made at the time of drop-off for the estimated total. The client will be responsible for any additional charges that occur during their pet's stay, which will be collected on the following Monday.
Boarding pick up time is 5pm. Pick up after this time will require the client to pay for an additional night of the run/suite charge. Standard latest pick up time is 30 minutes before close of business. If you pet is not picked-up before close, Vet Stop Animal Hospital will board your pet overnight at the pet owner's expense.
Boarding pets who are not up to date on their vaccines/testing are required to be updated at least 2 days prior to their stay.
If your pet experiences any illness or injury during their stay, Vet Stop Animal Hospital will care for the pet as deemed best medicine at the pet owner's expense. We will contact the owner and/or emergency at the below listed number. Vet Stop Animal Hospital takes all measures possible to prevent illness or injury. The client will not hold Vet Stop Animal Hospital liable for any illness/injury.
If owner fails to pick up their pet within 7 days after scheduled pick-up, the pet will be considered abandoned and may transfer the pet to the local animal control/shelter or make efforts to re-home the pet (at Vet Stop Animal Hospital's discretion)