Meet Our Team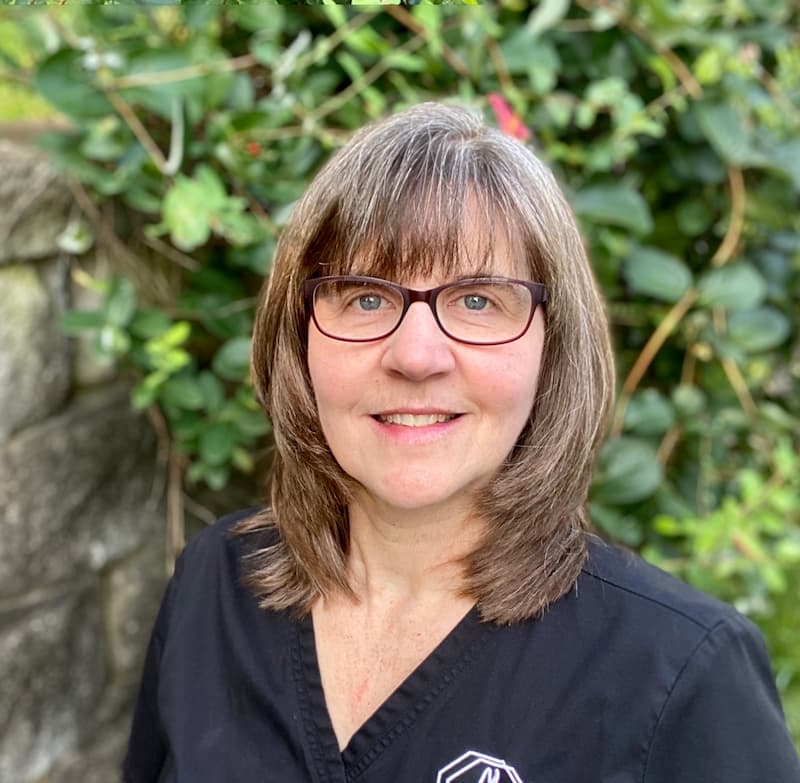 Dr. Tammy Smith
Veterinarian
Dr. Smith received her DVM from the University of Missouri-Columbia College of Veterinary Medicine in 1992. Moving to St. Louis shortly after graduation, she joined the Vet Stop organization in 1993. She enjoys working with owners and pets daily, providing wellness care and solving medical issues. Helping with behavioral concerns is especially rewarding. She has had the privilege of providing veterinary care for the residents of the Endangered Wolf Center since 2016 and currently serves on the EWC board.

Away from her professional life, Tammy enjoys being outside. Family vacations always include the outdoors. She shares these adventures with Chris, her husband of 31 years. They have three grown daughters (Emily, Hannah, and Megan) and share their house with their fifth Bernese Mountain dog, Cap and a Boston Terrier mix, Ellie.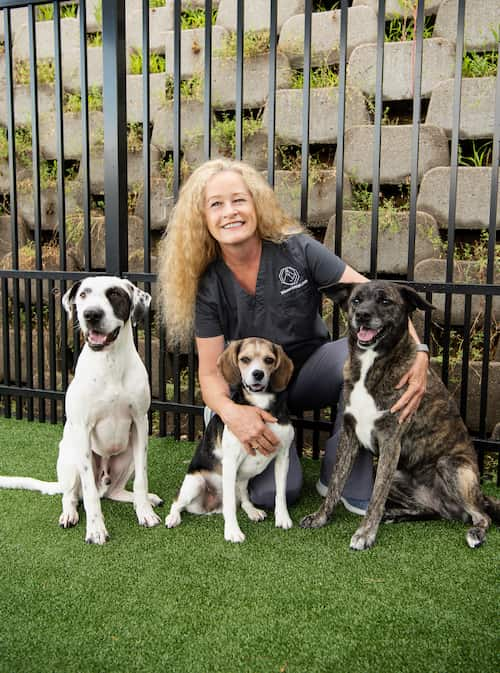 Dr. Rhiannon McKnight
Veterinarian
Dr. Rhiannon McKnight is a graduate of the Ontario Veterinary College and completed an Internship of Medicine and Surgery at the University of Georgia. She has been practicing at Vet Stop Animal Hospital for twenty-five years. Her special interests include general surgery, nutrition, veterinary dentistry and routine preventative medicine. Additionally, she volunteers for the Endangered Wolf Sanctuary as the Vice Chair of the Board of Trustees.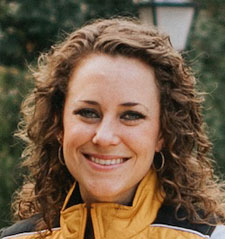 Dr. Michelle Thornberry
Veterinarian
Dr. Thornberry has always had the desire to work with and around animals in some capacity which is what drew her to Veterinary medicine. Her favorite part of being a veterinarian is providing people with knowledge or comfort that they did not have before they brought their pet to see her. She enjoys forming positive relationships on a daily basis (with a pet, with a person, or with a group of people), and strives hard to achieve practical solutions for the cases that come to her. Her specialties include preventive care, dentistry, and soft tissue surgery.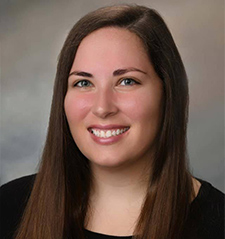 Dr. Erica Miller
Veterinarian
Dr. Erica Miller is a graduate of Iowa State University College of Veterinary medicine. She is a St. Louis native and grew up in West County. She completed her degree in Animal Science at Mizzou. She has been telling her family she was going to be a veterinarian from the age of 2. She enjoys forming new relationships with clients and pets alike. She is very excited to be part of the Vet Stop team. She is passionate about multiple aspects of veterinary medicine including surgery, reproduction, and preventative care.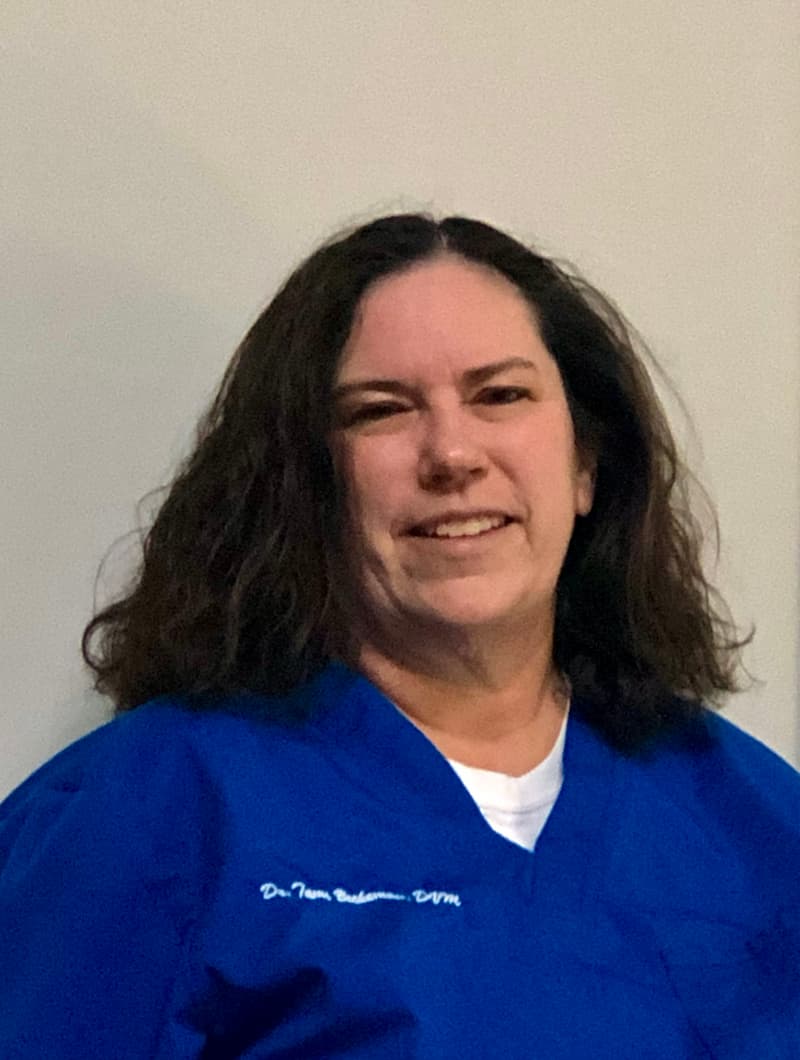 Dr. Tami Beckemen
Veterinarian
Dr. Beckeman comes to Vet Stop with over 20 years of experience and splits her time between our St. Peters and New Town location. She graduated from the University of Missouri College of Veterinary Medicine in 1996. She is Fear Free Certified and is very passionate about providing a less stressful visits for pets and their loved ones.

Her special interests include orthopedic and soft tissue surgery. She moved to New Town, St. Charles in 2016 to be closer to her family and loves the community. She can often be found walking her dog, Chance, in his wheelchair, pushing him in his stroller or pulling him in his bike! She is also an outdoor person and enjoys water sports including swimming, scuba diving and paddle boarding.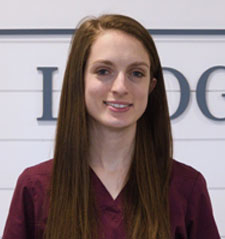 Shelby D.
Practice Manager
Shelby is the Practice Manager at both locations of Vet Stop Animal Hospital. She started her career in veterinary medicine in 2013 as a kennel attendant and has since moved through positions as a receptionist, veterinary assistant, and now Practice Manager. She has her B.S. in Animal Sciences from Mizzou and is close to earning her certification as a Veterinary Practice Manager. She loves spending time outside any chance she gets with her family and three dogs. Katt W.
Veterinary Assistant
Katt has been a Veterinary Assistant since 2013 and is now the Lead Technician at Vet Stop! She loves her job! In her free time, you can catch her training dogs or running around with her twin boys! Cari E.
Veterinary Assistant
Cari has been with Vet Stop since early 2023, and she has worked in veterinary medicine for more than four years. She has one cat, Aries. She is very excited to work with the amazing doctors and team at Vet Stop and get to know your pets. Megan W.
CSR
Megan loves all animals, but her very best friend is my cat Zeus. He is her therapy cat and her whole world! Outside of work, she loves spending time with family and friends, and now she works with family and animals!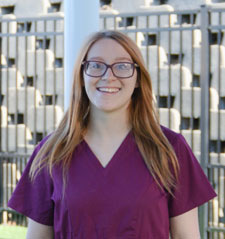 Cassie W.
Lodge Attendant
Cassie has been working with animals since 2017 and has enjoyed every minute of it. She has four dogs of her own and previously worked at a no kill animal shelter. Her favorite part was caring for and helping rehabilitate scared and fearfully aggressive dogs. She loves dogs of all shapes and sizes and has always had a special place in her heart for those that are shy and nervous. She adores working at Vet Stop and building strong, trusting relationships with pets and their owners so they can both enjoy their vacations. Kara H.
Groomer
Kara has been with Vet Stop since 2022. She has been grooming for over ten years. She has an almost eleven year old Pomeranian. She loves her job and her clients! Brandee O.
Groomer
Brandee has been grooming dogs since 2022. She completed the grooming program at the Academy of Pet Careers and has two wonderful mentors that she works with on a daily basis. She changed her career to become a groomer and has never looked back. She enjoys spending time with your pets and looks forward to making them look their best.